Bonus Miles Flotilla 2019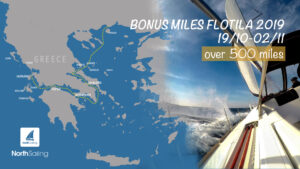 "The favourite flotilla of sailing lovers." In 2019 we organise a flotilla from Aegean to Ionian Sea, Lefkada. Starting from Keramoti port, Kavala and via Mt Athos, we will sail south to Korithian channel through Chalkida bridge or out of Evoia through Cavo D' Oro. We aim to pass Korinthian bay and follow north route to Ionian Sea. This is one week trip and one-way. The second week will take place the opposite route after changing crew.
During the routes, the intermediate destinations are plenty like: Skyros, Evoia, Athens, Korinthian bay/harbour, Kefalonia, Ithaka, Lefkada.
The choice of the stops and route will be decided according the weather conditions.
---
Way of participation
Bareboat with your crew in one of our boats with the special for this reason prices
Individually as crew with other sailors 
PRICELIST
Bareboat (available boats 35-54ft and catamaran 38-43ft)
Ask for our special offer
Individual (in double cabin with cabin-mate)
450€
*in individual prices are included bed linen, towels, blankets

*in all prices is included the transfer from Keramoti-Ionian Sea or way back with busses