VII Bonus Miles Flotilla 28/04-01/05/2022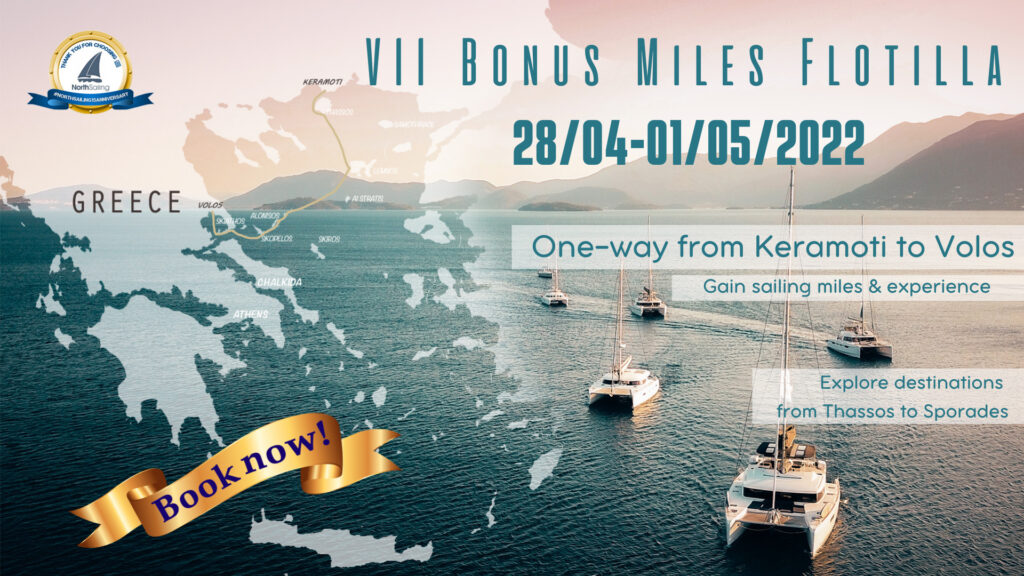 Sailing is calling!
We are happy  to invite you to our VII Bonus Miles Flotilla for Season Opening! We did miss the sea! And you?
As always, Bonus Miles Flotilla will be organized in collaboration with North Aegean Sailing Club. 
Starting on April, 28th and to May, 1st we will travel from the port of Keramoti to Thassos & Sporades islands, with final destination in Volos port.
Flotilla is a social cruise that gives you the opportunity to visit small harbors and moorings that make sailing in Greece so special, in order to practice and develop your sailing skills. This Bonus Miles Flotilla will give you 250 certified NM!
We are excited about the route and adventure! All crews will have the opportunity to actively participate by steering, trimming sails, mapping routes and other actions required for safe and fast navigation. Season Opening Flotilla aims to remind & refresh knowledge & skills participants have gained in sailing, after the long time to be out in the sea.
Stops and the route of the Flotilla will depend mainly on weather conditions. At every stop crews gather for a meeting where the weather is mapped out and the further route to be followed is analysed. Our goal is to use the sails as much as possible!
As always, at least one boat will be educational, for the new students who wish to obtain their sailing diploma. Educational boats will be skippered by experienced instructors of North Aegean Sailing Club, who will provide also lessons in theory & practice.
We will depart from Keramoti, heading to Thassos island, our first destination. We will continue to Sporades then, and the arrival to Volos is expected on May, 1st in the  afternoon, to check-out and return to Keramoti with a private bus organized for participant.
Ways of participation
Bareboat with your crew in one of our boats 
Individually as crew with other sailors 
You may optionally choose to have fast learning sailing lessons during Bonus Miles Flotilla, gaining in 4 days the open sea experience to obtain a sailing diploma (theory & practical lessons)
| | |
| --- | --- |
| PRICELIST | |
| Bareboat (available boats 33-54ft and catamaran 38-43ft) | Ask for our special offer |
| Individual (in double cabin with cabin-mate) | 200-250 € |
| Individual (in double cabin with cabin-mate) + Sailing course from N.A.S.C. | 450 € |
*Individual prices include fuel, linen, towels, blankets, bridge charges, ports etc.
Extras:
Single accommodation without cabin mate (upon request)
Return one-way transfer from Volos to Keramoti 25€/person
Gaining the sailing experience, you need to obtain a sailing license (beginners or advanced) from N.A.S.C. sailing with N.A.S.C.'s instructor.
For Bareboat Flotilla obligatory extras are diesel, safety deposit & end cleaning
Contact us to book!
Email: info@northsailing.gr
Phone: +302591051180, +306978415004
CHECK OUR CALENDAR OF SAILING ACTIVITIES FOR SPRING 2022 HERE!