VIII Bonus Miles Flotilla 22-29/10/2022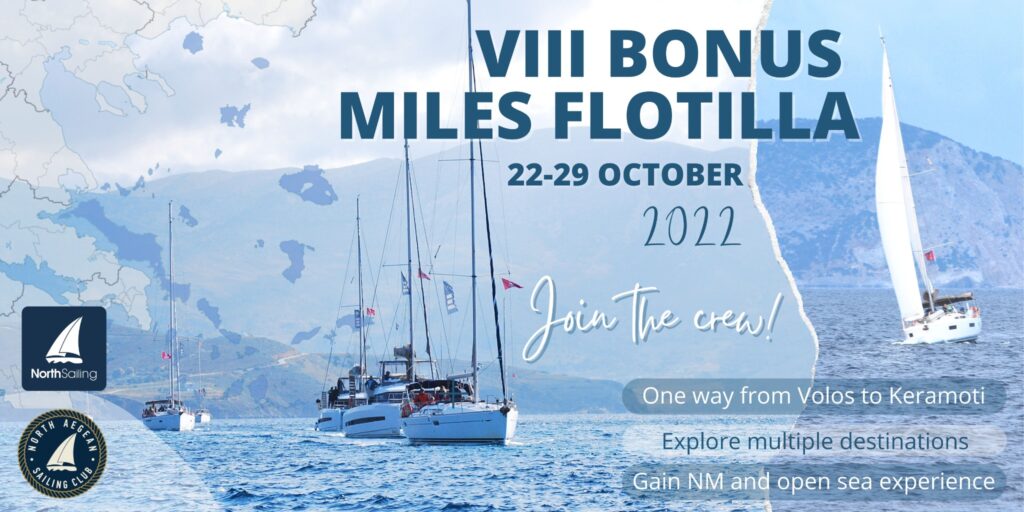 Sailing is calling! Let's go for it again!
VIII Bonus Miles Flotilla 2022 End of Season
VIII Bonus Miles Flotilla is calling you! Organized by North Sailing in collaboration with North Aegean Sailing Club, for the sixth year in a row, this year Flotilla will take place on October, 22-29. We will kick off Volos port and there will be a whole week for an adventurous one-way route including Sporades islands, Thassos and other destinations in between, before we reach the final point Keramoti.
Bonus Miles Flotilla is a favorite adventure of North Aegean, it's highly expected and also one-of-a-kind social cruise, during which you are visiting small bays and harbors in beautiful famous but also hidden destinations while practicing and developing your nautical skills.
More than 10 sailboats and catamarans are going to participate in Flotilla, including the educational boats with a crew of students. It is an opportunity for those who want to make their first acquaintance with sailing and get a diploma. Present holders of sailing licenses can develop their skills and enrich their experience. The training boat is going to be skippered by experienced sailing instructor from NASC.
The route is designed in a way to provide participants with a rich sailing and nautical experience, always in complete safety. All crews have the opportunity to participate actively, steering, trimming the sails, mapping the route as well as other actions required for safe and rapid navigation.
Stops and the final route of the Flotilla depend mainly on the weather conditions. The crews will gather at each stopover for weather analysis and mapping of the following route. We aim to go on open sails as longer part of the route as possible!
The leader of Bonus Miles Flotilla will be Mr. Gkritzelakis Christoforos, the head instructor of the North Aegean Sailing Club.
Bonus Miles Flotilla promises to be – and will be – your unforgettable experience! We invite you to join us on this adventure.
Ways of participation
Bareboat with your crew in one of our boats 
Individually as crew with other sailors 
You may optionally choose to have fast learning sailing lessons during Bonus Miles Flotilla, gaining in 7 days the open sea experience to obtain a sailing diploma (theory & practical lessons)
| | |
| --- | --- |
| PRICELIST | |
| Bareboat (available boats 35-54ft and catamaran 40-43ft) | Ask for our special offer |
| Individual (in double cabin with cabin-mate) | 275€ in monohull / 350€ in catamaran |
| Individual on educational boat (in double cabin with cabin-mate) | 450 € |
*For Bareboat rent available boats are 35-54ft and catamaran 40-43ft – availability must be requested
**Standard reservation is a place in a double cabin with cabin-mate
Extras:
Single accommodation without cabin mate (upon request)
One-way transfer from Keramoti to Volos on 22/10/2022, 25€/person
Obtaining a license (beginners or advanced) from N.A.S.C. /sailing with N.A.S.C.'s instructor
For Bareboat Flotilla obligatory extras are diesel, safety deposit & end cleaning
Contact us to book!
Email: info@northsailing.gr
Phone: +302591051180, +306978415004
See you onboard!